Regular price
$491.00 USD
Regular price
Sale price
$491.00 USD
Unit price
per
Sale
Sold out
Seen it cheaper online? We price match (added import duties etc), simply send us a link to info@elro.uk along with a postal address and we will create an invoice :-)
Brakes are in the UK ready to ship - no import duty to pay etc.
 Formula Cura 4 brake set (x2) with a x2 203mm rotors.
2 x Cura 4 Disc Brakes with 175cm Hoses
2 x Formula Monolitic 203mm Disc Rotor 6-hole
12 x Formula Torx Screws
2 x pair Brake Pads organic
2 x Olive and Barbs
2 Insert pin
Disc brake is ready for installation, completely assembled and bleeded!
Adapter not included!
With the Cura 4 we set a very ambitious goal for ourselves, we tried to go beyond even our own expectations. Our direction was clear from the beginning, create a brake that had no equal in terms of power and performance, one that was made of the highest quality materials and was accessible to a vast number of riders.
The four 18mm diameter pistons of the Cura 4 provide the rider with, up until now, unimaginable power. The expanded friction surface of the pads and the increased thickness guarantee perfect modulation. With Cura 4 you will be able to have maximum control over braking power. The optimized roll-back allows for reaching that exceptional lever feeling that has already made the Cura famous.
The Cura 4 inherits its quality of materials from its smaller brother, Cura. In fact, it is a fully forged and anodized brake, a production process that guarantees structural quality, reliability over time and low weight.
FD94175-4P
FD94175-4U
FD94175-4G
Share
View full details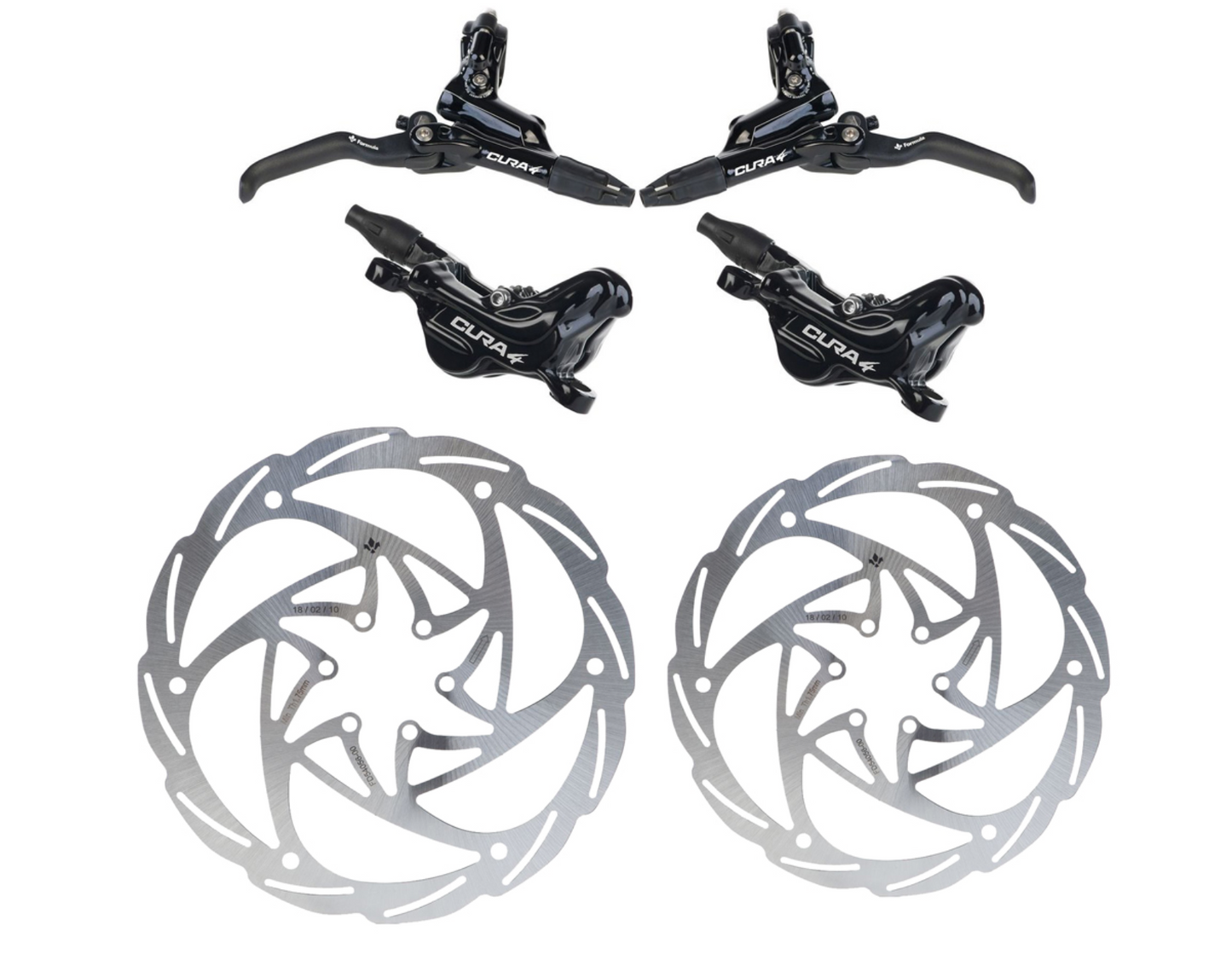 Engineered by Formula. Supplied by Elro.
We are proud to be the official UK distributor for Ride Formula. We only supply directly from the factory based in Italy, so you can ride easy knowing you have genuine Formula products.